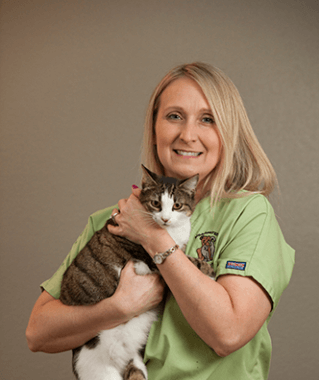 Andrea
Practice Manager
Andrea is a born and raised local of Tampa, Florida. She has been with the Meadowrun team since 1993. Andrea has stayed with Meadowrun because she loves the clients she helps every day and enjoys working with our amazing staff. The family atmosphere at Meadowrun works incredibly well together with the goal of helping our patients receive the best veterinary care possible. Andrea loves veterinary medicine because she has the opportunity everyday to work with animals and make a real difference in their overall health.
Andrea resides in Plant City with her husband, son and adorable cat (Henrietta). She has been a Veterinary Nurse for over 20 years and has been a dedicated member of the Meadowrun Team throughout that time. While working at Meadowrun, Andrea earned her degree as a Registered "Human" Nurse. Her love for our clients and their pets swayed her to stay with our hospital. In her free time, Andrea enjoys traveling with her family and exploring new places.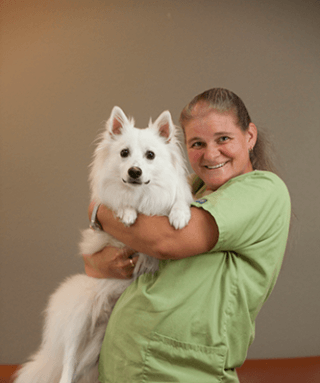 Kim
Veterinary Nurse
Originally from Tom's River, New Jersey, Kim came to Meadowrun in March of 2012. She enjoys working at Meadowrun because the staff are easy going and everyone enjoys having fun while taking care of our patients. Keeping pets healthy is why Kim loves veterinary medicine. She enjoys the technical aspect of phlebotomy, radiographs and performing dental cleanings.
Outside of work Kim enjoys spending time with her family including her American Eskimo, Skully. Going out on the boat, playing with the pup, attending Gaspirilla parades, and vacationing in the Keys are some of her favorite things to do.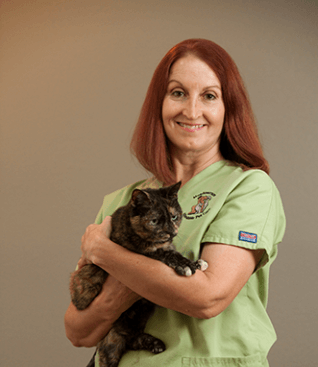 Linda
Client Care Representative
Linda is another Florida Native from Winter Haven, Florida. She joined the Meadowrun team in October 2016. She decided to join our hospital because she enjoys helping our clients and their pets. Working around animals all day makes her happy and she loves her job. Linda loves veterinary medicine because she is able to be a part of something that allows pets to live happier and healthier.
Linda has a farm load of animals including two horses (Lola and Taz), a Corgi (Crash), three pet cats (Maple, Rocco, and Puddin), a leopard gecko (Philly) and a barn full of rescue cats. Linda enjoys training horses and manages a Equestrian farm in Lithia. She has been riding and working with horses most of her life.

Kayla
Client Service Representative